GENUINE COLLECTOR CHASING BEECHWORTH POTTERY ITEMS IN ANY CONDITION, ALSO ANY PICTURES OR DOCKETS FROM THE POTTERY.
CONTACT MARK ON 0408 833 327 OR EMAIL australianclaybottles@gmail.com
H L & E MAKERS BEECHWORTH STONEWARE EARTHENWARE POTTERY CLAY BARREL KEG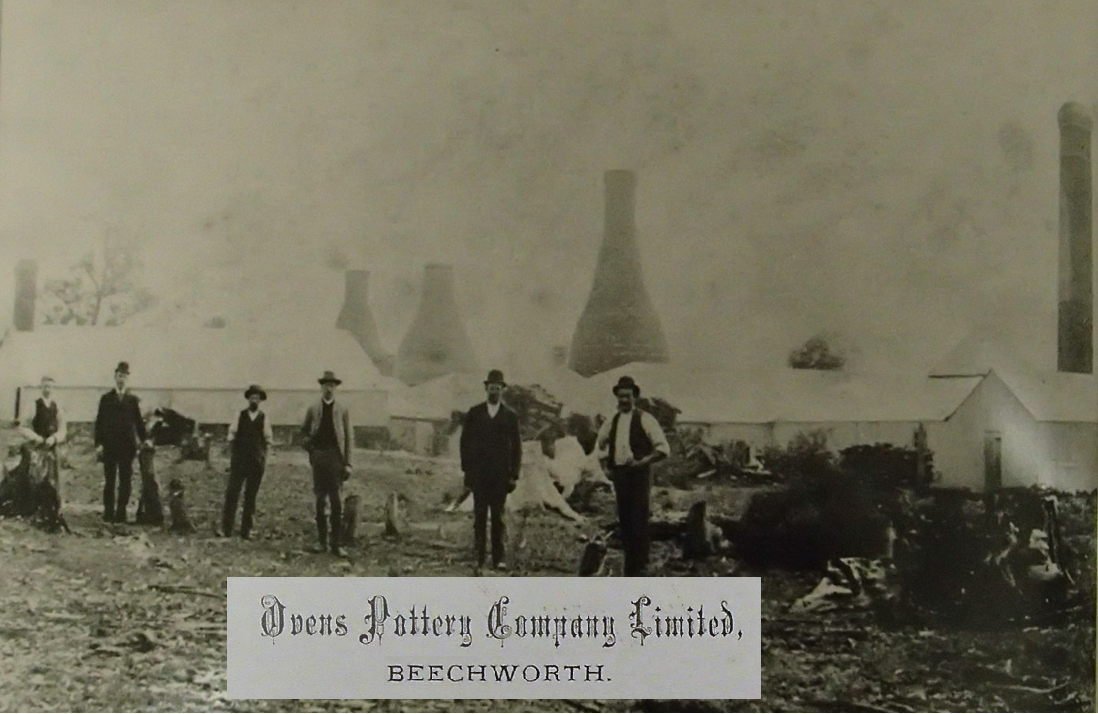 OVENS POTTERY COY LTD AND H.L.& E. BEECHWORTH POTTERY SITE AT HURDLE FLAT
A large source of clay was discovered during the 1850's gold rush period at Hurdle Flat, several kilometres south east of Beechworth. The clay was found to be suitable for the manufacture of both earthenware and stoneware pottery. In 1876 several samples of clay were sent to James Plumridge of the Pioneer Pottery Works in Ballarat. Plumridge did a course of trials and was satisfied it could produce quality pottery. Plumridge brought several examples of pottery from the samples when he presented two Lectures at Beechworth and Stanley in January 1877.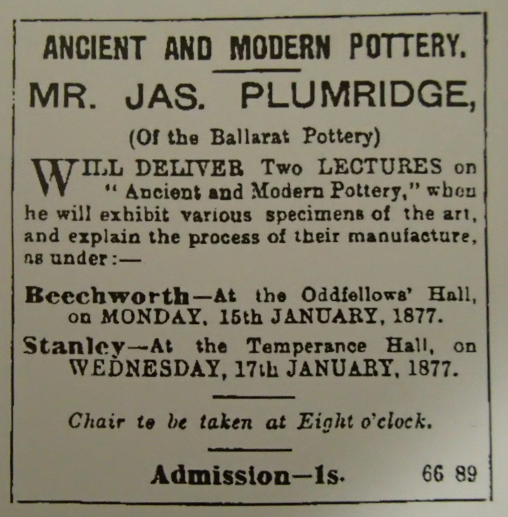 THE BEECHWORTH POTTERY COMPANY 1882-1883
In March 1882 the Beechworth Pottery Company was a formed. James Plumridge was appointed the pottery's working Manager. The first full kiln was fired in December 1882, mostly flower pots ornamental vases, milk pans, jugs and drain pipes, all turned out to be satisfactory. The second firing in February 1883 resulted with the larger items breaking and cracking in the process, Potter James Plumridge blamed the problem on moisture in the kiln walls. James Plumridge left the Beechworth Pottery Company in June 1883 and commenced employment with Luke Gulson of the Albury Pottery Works. The Beechworth Pottery Company ceased operation in December 1883.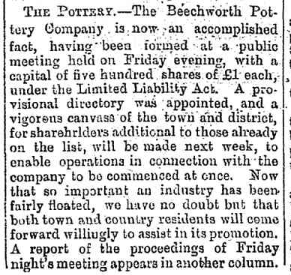 BEECHWORTH POTTERY COMPANY FLOWER POT AND STORAGE JAR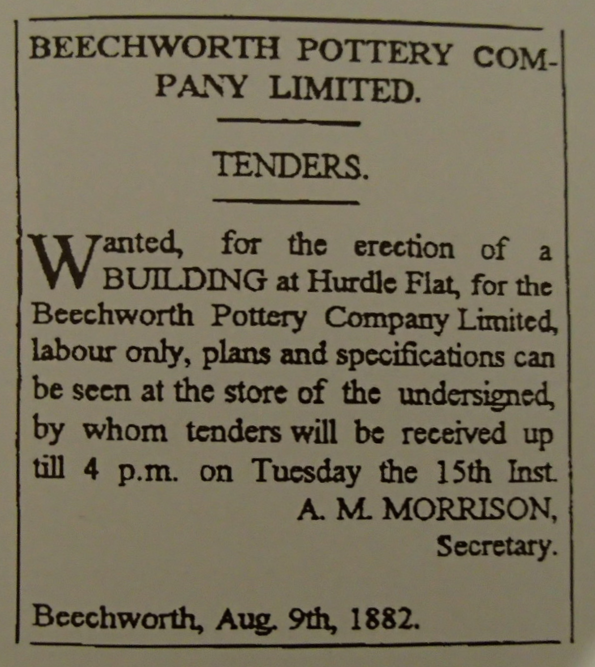 THE H.L & E. POTTERY BEECHWORTH 1886-1888
The pottery was re-established in 1886 by John Hambleton, George Lindop and Benjamin Eastwood. Lindop and Eastwood were experienced Staffordshire Potters. They were producing teapots, jugs, pitchers, baking dishes, basins, flower pots, barrels, pots, storage jars and water filters. The Pottery was successful and demand for their wares increased, but limited resources, staff and capital prevented any expansion. In 1888 Beechworth business men Alfred Foster and Joseph Wilson approached Hambleton, Lindop and Eastman of the H.L.& E BEECHWORTH POTTERY to buy them out and form the OVENS POTTERY COMPANY LIMITED.
H.L.& E. BEECHWORTH POTTERY STORAGE JARS 2 QUART AND 4 QUART HL&E MAKERS BEECHWORTH POTTERY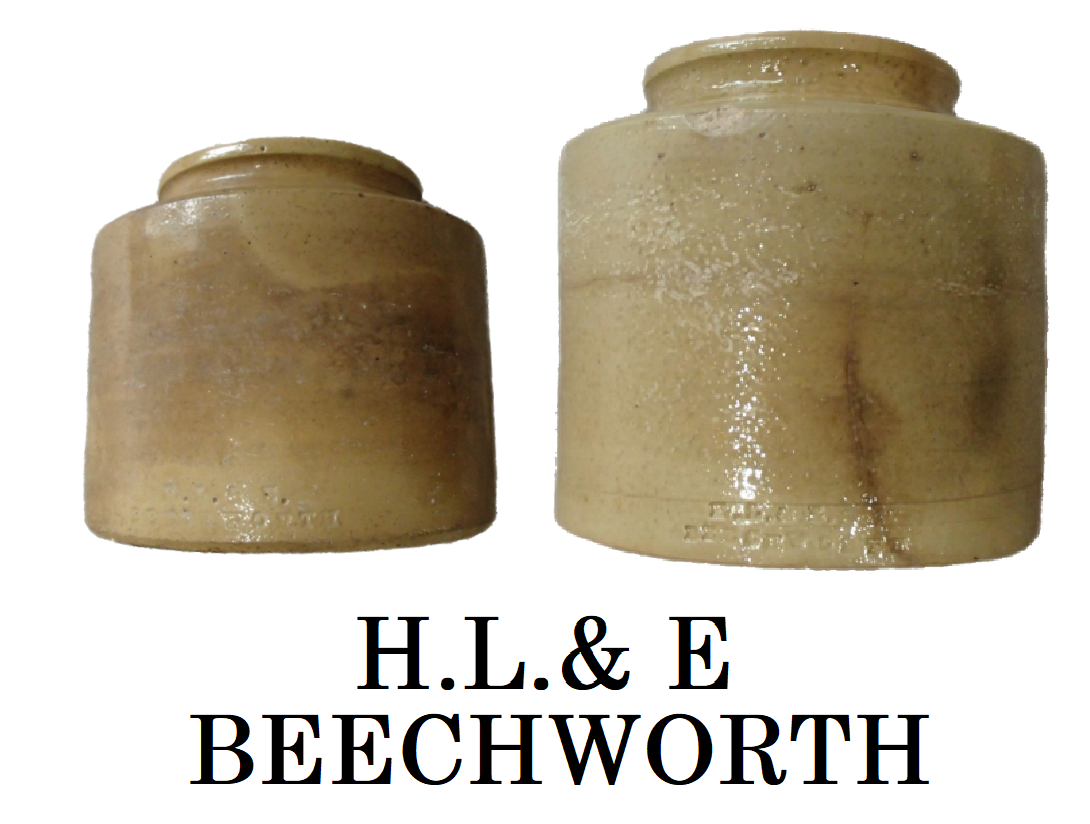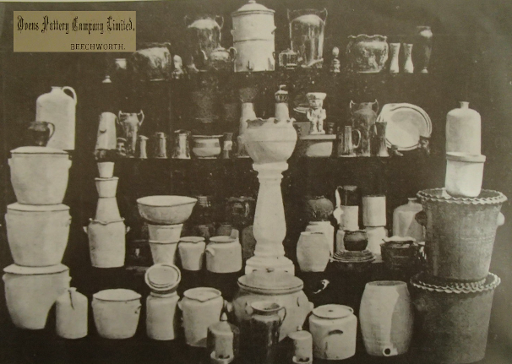 PICTURE SIMULATED FROM EXHIBITION BY McHUGH POTTERY LAUNCESTON TASMANIA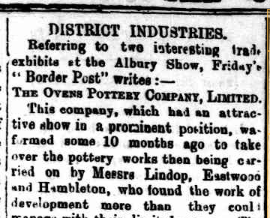 KNOWN POTTER STAMPS AND MARKS OF H.L.& E. BEECHWORTH H.L.& E MAKERS BEECHWORTH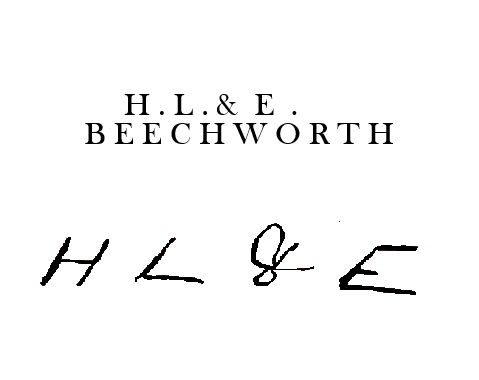 H L & E BEECHWORTH POTTERS STAMP, USED ON LOWER BODY OF POTTERY JARS AND POTS HL&E

HAND INSCRIBED H L & E, USED ON BASE OF POTTERY JARS AND POTS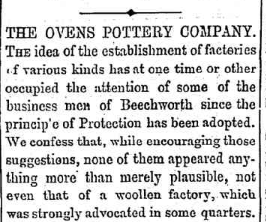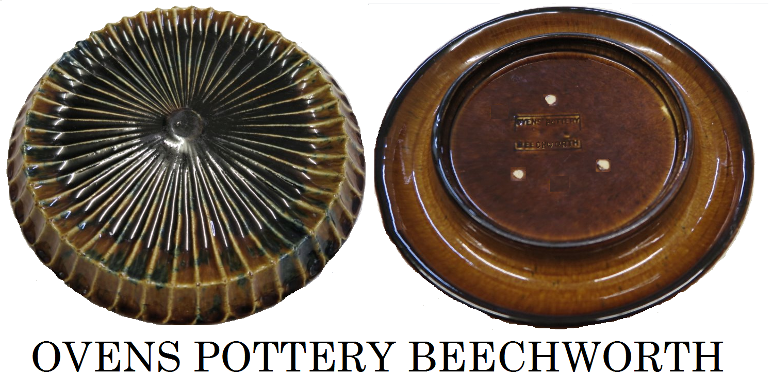 OVENS' POTTERY COY LTD BEECHWORTH MEAT PLATTER OR PLATE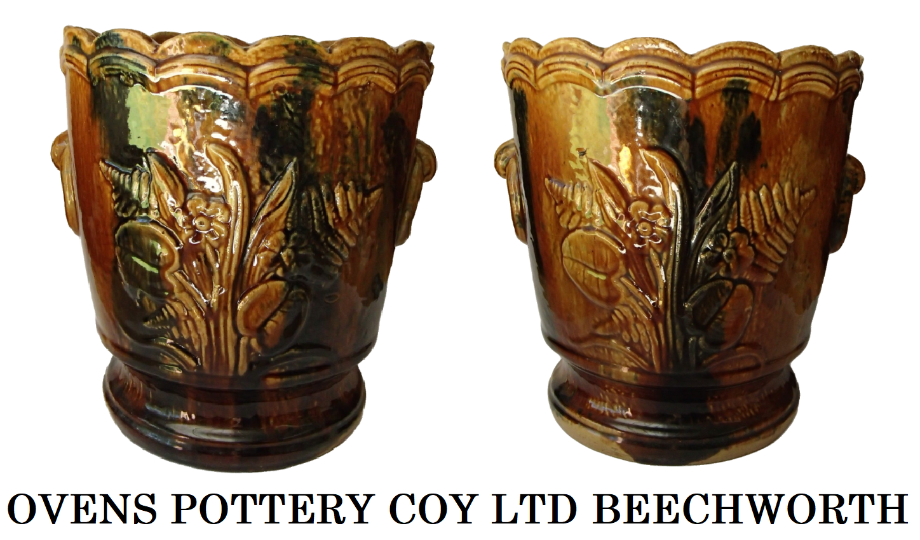 OVENS POTTERY COY LTD BEECHWORTH MAJOLICA GLAZED JARDINIERE FLOWER POT URN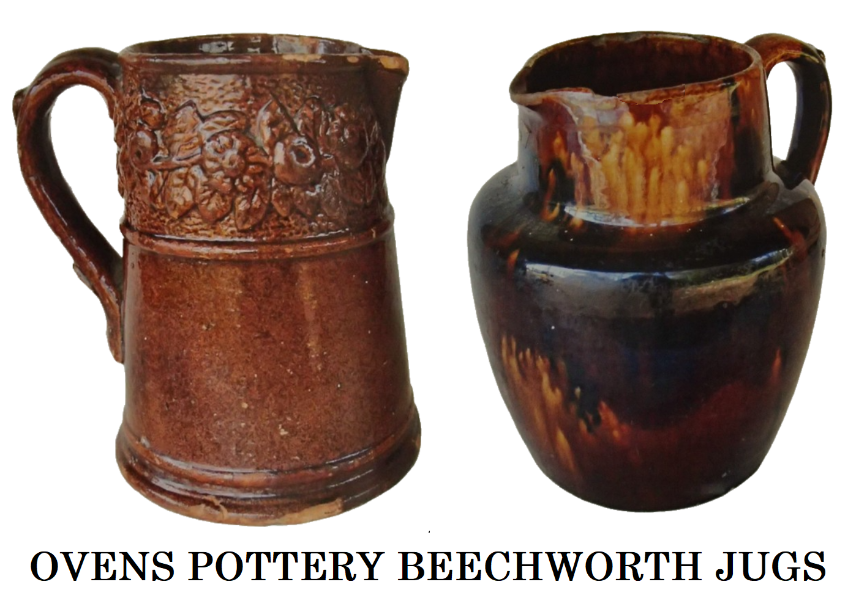 OVENS POTTERY COY LTD BEECHWORTH MAJOLICA ROCKINGHAM GLAZED JUG PITCHER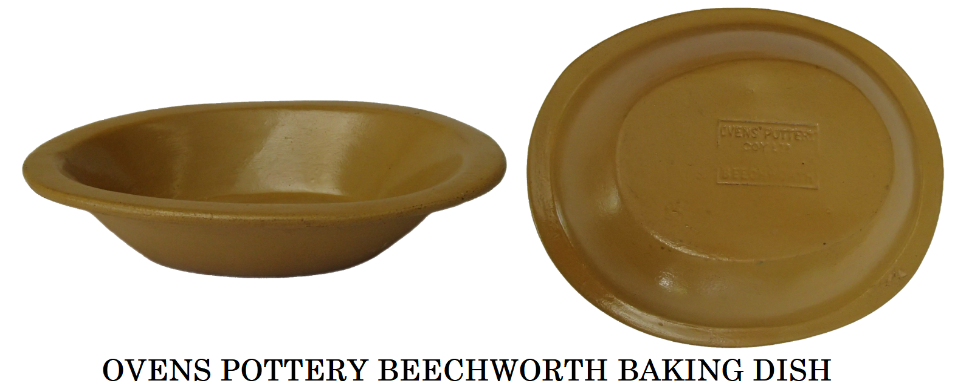 OVENS' POTTERY COY LTD BEECHWORTH CANE WARE BAKING DISH BOWL PLATE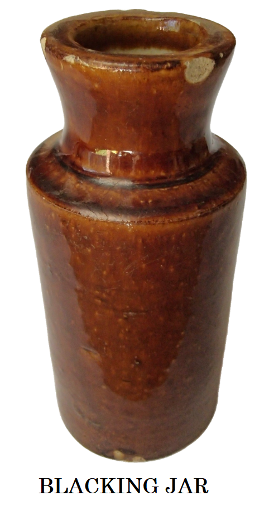 OVENS POTTERY BEECHWORTH BLACKING JAR GINGER BEER BOTTLE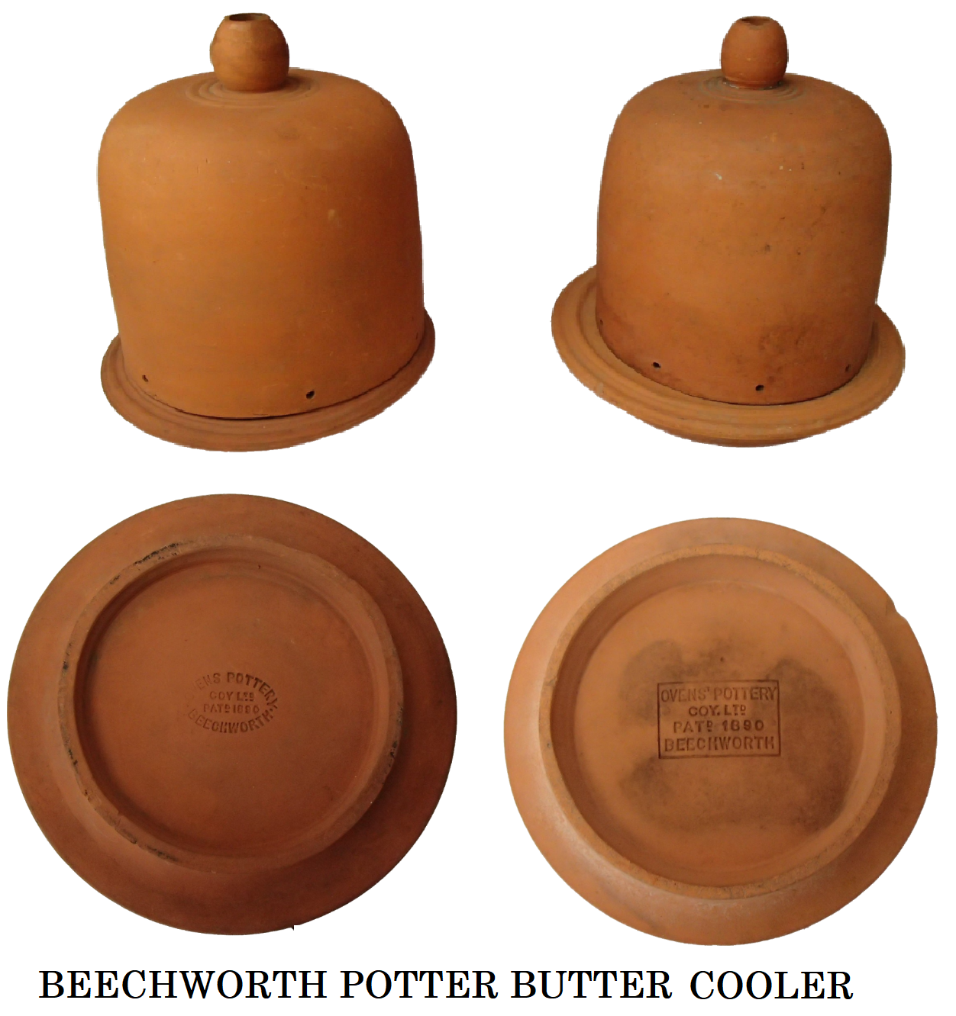 OVENS' POTTERY COY LTD PATD 1890 BEECHWORTH TERRACOTTA BUTTER COOLER PLATE DOME LID COVER
OVENS' POTTERY COY LTD BEECHWORTH MAJOLICA GLAZED CHEESE COVER PLATE DOME LID


OVENS POTTERY COY LTD BEECHWORTH TEA POT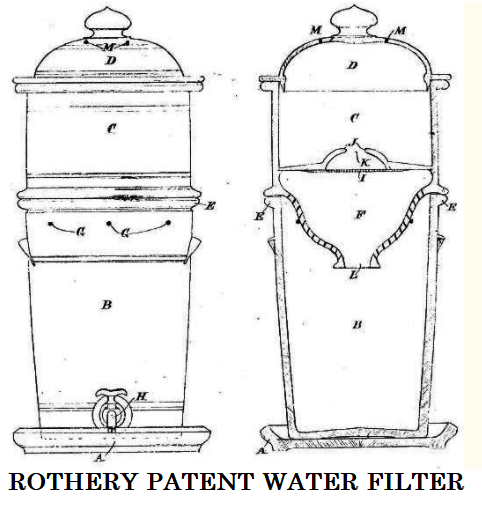 JOSEPH ROTHERY OF THE OVENS POTTERY BEECHWORTH APPLIED FOR A PATENT IMPROVED WATER FILTER IN 1890,
THE NEW IMPROVED WATER FILTER WAS INVENTED BY POTTER GEORGE LINDOP.
OVENS POTTERY COY LTD BEECHWORTH MAJOLICA GLAZED SPITOON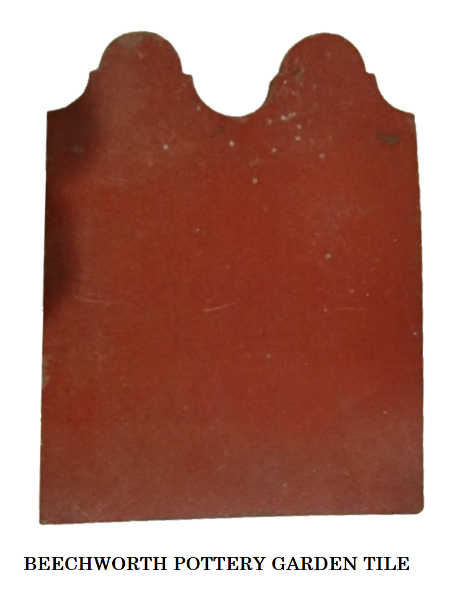 BEECHWORTH POTTERY GARDEN EDGE TILE TERRACOTTA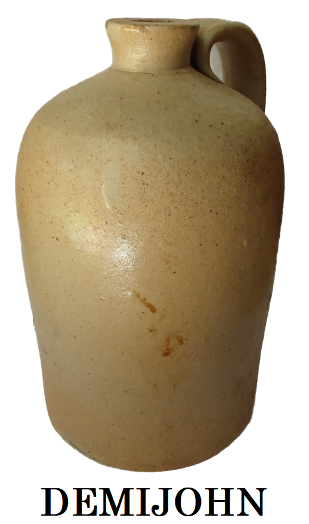 OVENS POTTERY BEECHWORTH JAR DEMIJOHN CROCK BOTTLE
OVENS POTTERY BEECHWORTH MAJOLICA TEA POT COFFEE POT
OVENS POTTERY BEECHWORTH HANDLED JAR POT CROCK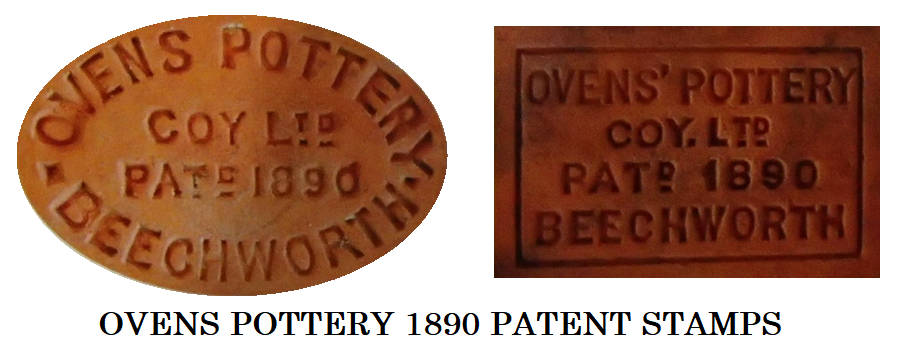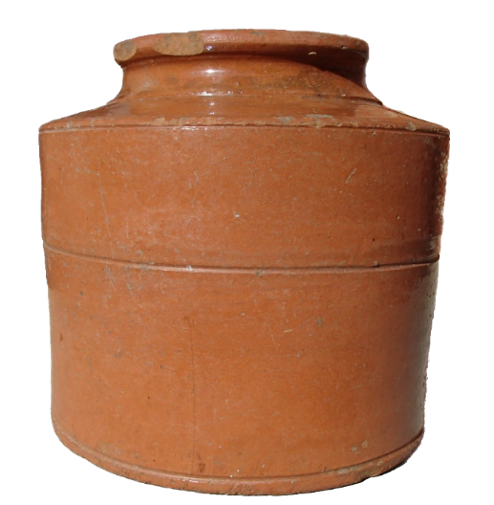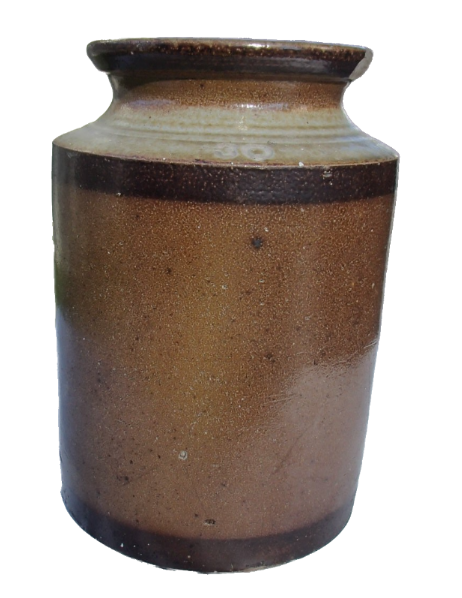 OXIDE BANDED SALT GLAZED 3 QUART STORAGE JAR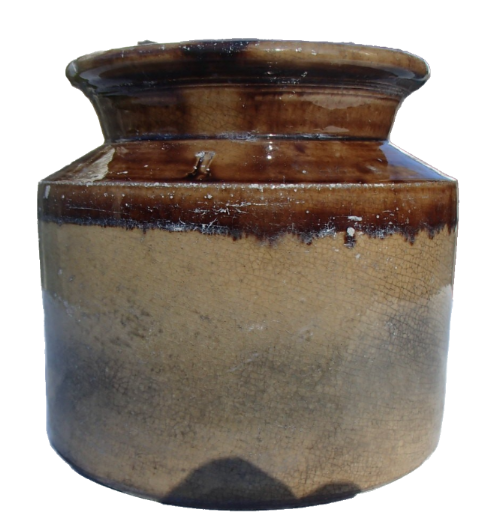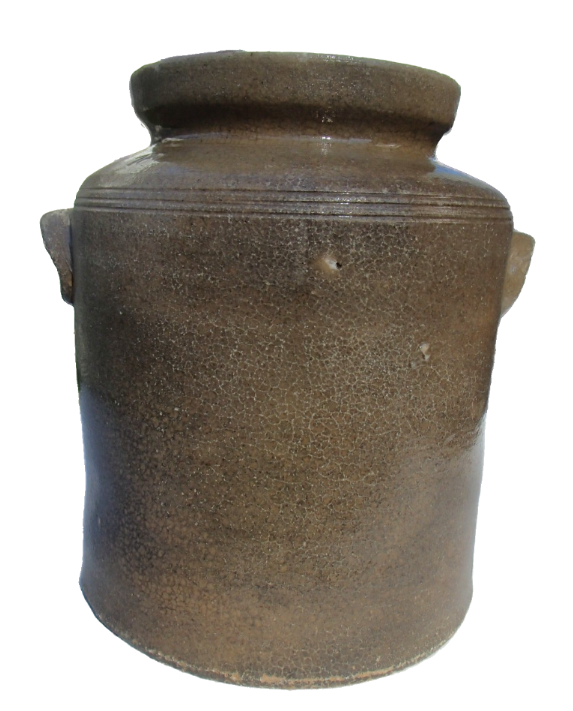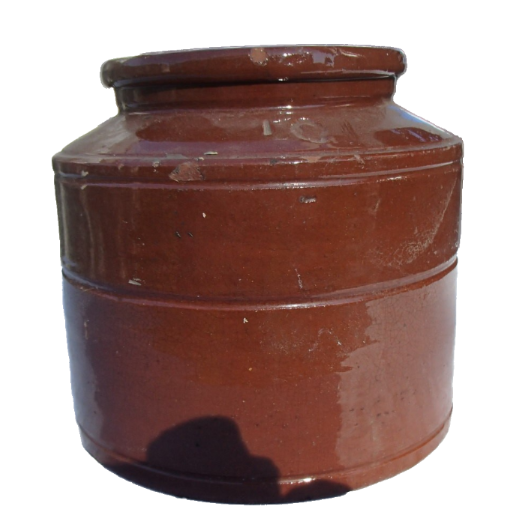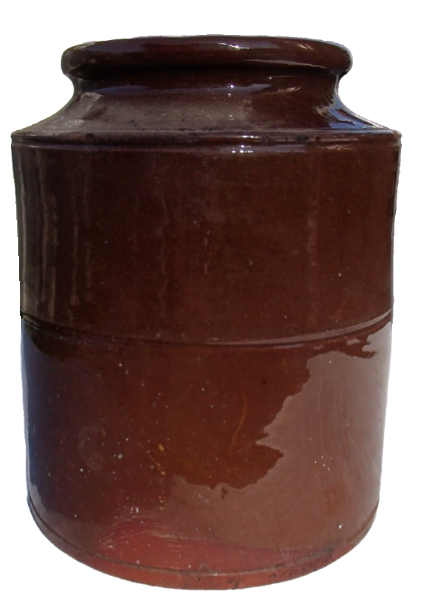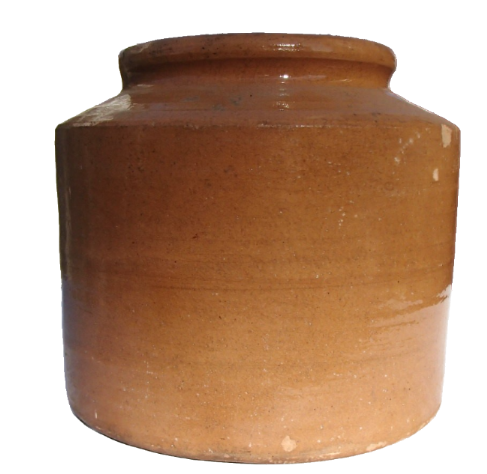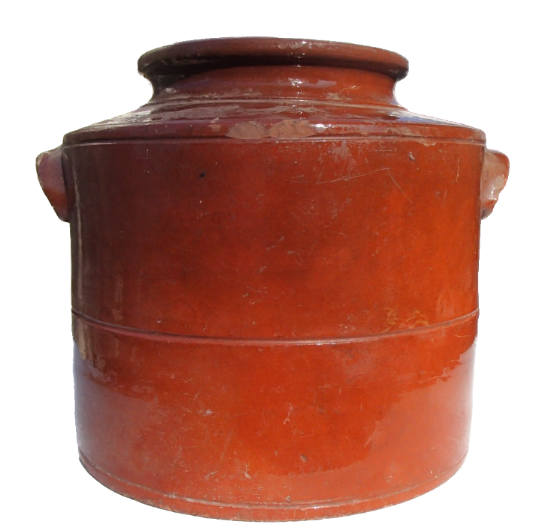 CLEAR LEAD GLAZE RED EARTHENWARE 2 GALLON STORAGE JAR OR POT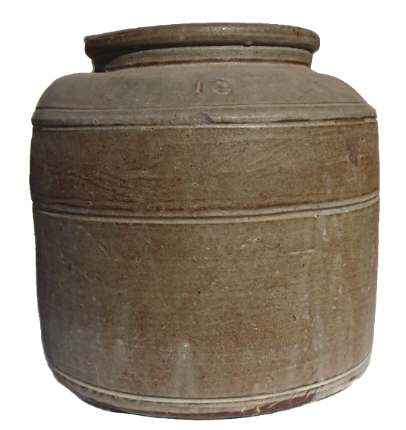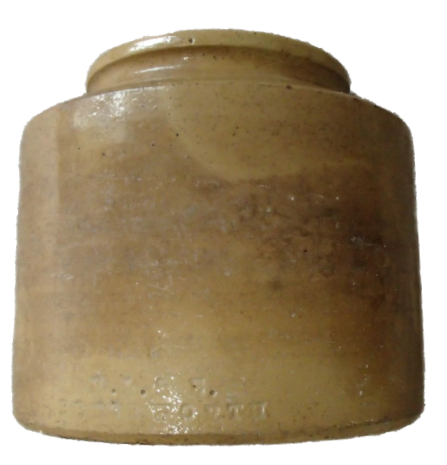 LEAD GLAZED EARTHENWARE 2 QUART STORAGE JAR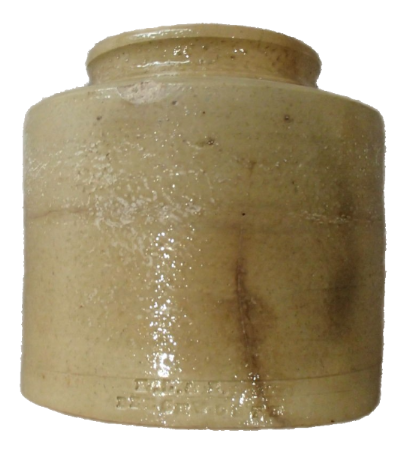 LEAD GLAZED EARTHENWARE 4 QUART STORAGE JAR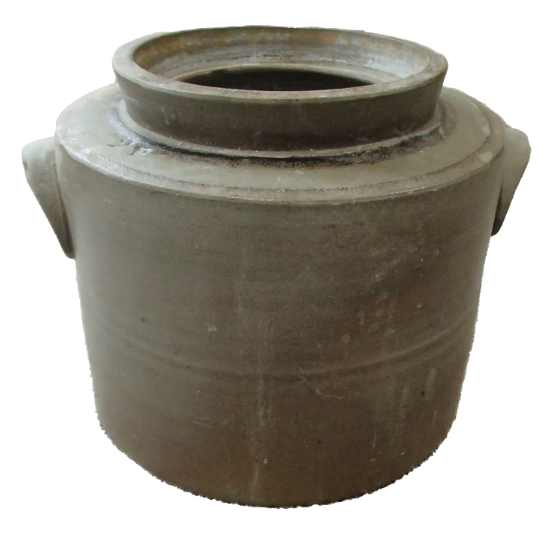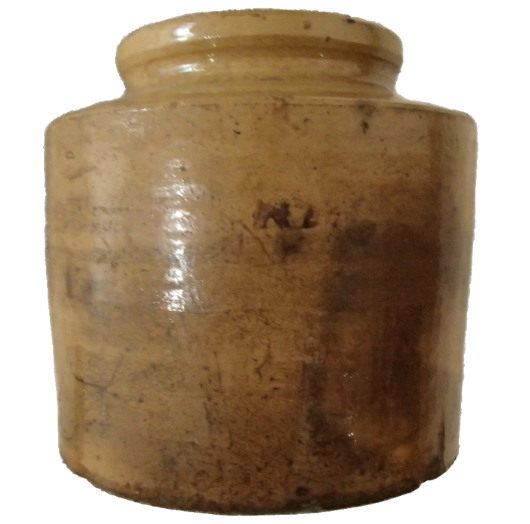 CLEAR LEAD GLAZED CREAM EARTHENWARE 4 QUART STORAGE JAR OR POT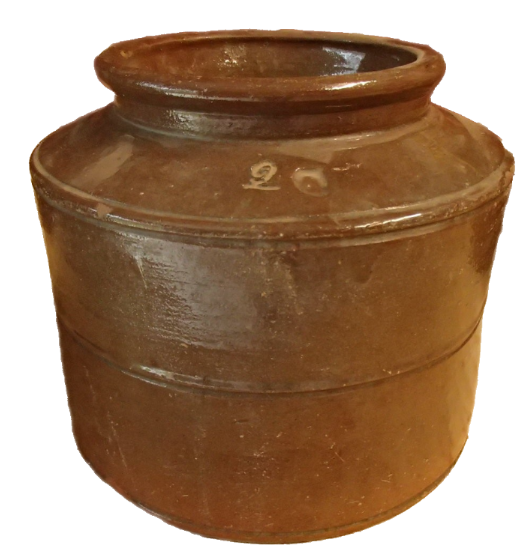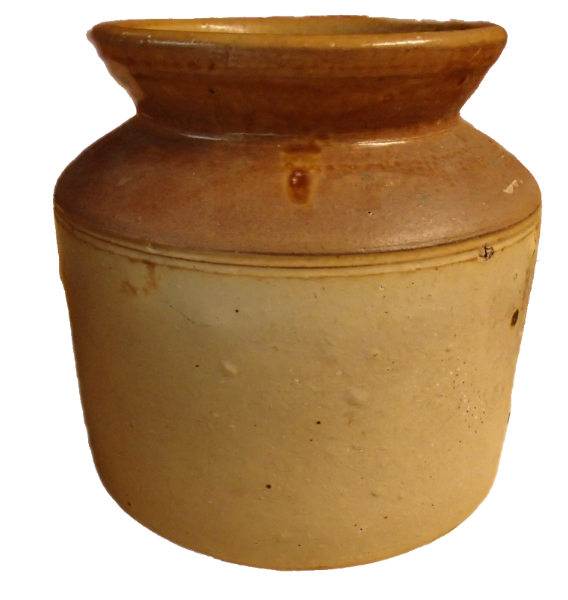 OVENS POTTERY COY LTD PATD 1890 BEECHWORTH POTTERS STAMP MARK OVENS'
OVENS POTTERY COY LTD PATD 1890 BEECHWORTH ROTHERY'S PATENT WATER FILTER
OVENS POTTERY COY LTD PATD 1890 BEECHWORTH BREAD PLATE
OVENS POTTERY COY LTD PATD 1890 BEECHWORTH SPITTOON
OVENS POTTERY COY LTD PATD 1890 BEECHWORTH CHEESE PLATE
OVENS POTTERY COY LTD PATD 1890 BEECHWORTH TEAPOT
OVENS POTTERY COY LTD PATD 1890 BEECHWORTH JUG
H L & E MAKERS BEECHWORTH MAJOLICA COLOURED POTTERY CLAY STONEWARE BARELL KEG CROCK JAR BOTTLE FLAGON ENGLISH COAT OF ARMS TAP SPIGGOT
SHAW BROTHERS H L & E MAKERS BEECHWORTH MAJOLICA COLOURED POTTERY CLAY STONEWARE BARELL KEG CROCK JAR BOTTLE FLAGON ENGLISH COAT OF ARMS TAP SPIGGOT
SHAW BROS H L & E MAKERS BEECHWORTH MAJOLICA COLOURED POTTERY CLAY STONEWARE BARELL KEG CROCK JAR BOTTLE FLAGON ENGLISH COAT OF ARMS TAP SPIGGOT
SHAW AND TAYLOR H L & E MAKERS BEECHWORTH MAJOLICA COLOURED POTTERY CLAY STONEWARE BARELL KEG CROCK JAR BOTTLE FLAGON ENGLISH COAT OF ARMS TAP SPIGGOT
CRAWFORD H L & E MAKERS BEECHWORTH MAJOLICA COLOURED POTTERY CLAY STONEWARE BARELL KEG CROCK JAR BOTTLE FLAGON ENGLISH COAT OF ARMS TAP SPIGGOT
R TAYLOR & CO H L & E MAKERS BEECHWORTH MAJOLICA COLOURED POTTERY CLAY STONEWARE BARELL KEG CROCK JAR BOTTLE FLAGON ENGLISH COAT OF ARMS TAP SPIGGOT
S SHAW H L & E MAKERS BEECHWORTH MAJOLICA COLOURED POTTERY CLAY STONEWARE BARELL KEG CROCK JAR BOTTLE FLAGON ENGLISH COAT OF ARMS TAP SPIGGOT
P HANNAN LONDON TAVERN H L & E MAKERS BEECHWORTH MAJOLICA COLOURED POTTERY CLAY STONEWARE BARELL KEG CROCK JAR BOTTLE FLAGON ENGLISH COAT OF ARMS TAP SPIGGOT
FEDERICK FRED ALLEN FREDK H L & E MAKERS BEECHWORTH MAJOLICA COLOURED POTTERY CLAY STONEWARE BARELL KEG CROCK JAR BOTTLE FLAGON ENGLISH COAT OF ARMS TAP SPIGGOT

C J O'SULLIVAN ALBION HOTEL H L & E MAKERS BEECHWORTH MAJOLICA COLOURED POTTERY CLAY STONEWARE BARELL KEG CROCK JAR BOTTLE FLAGON ENGLISH COAT OF ARMS TAP SPIGGOT
OVENS POTTERY H L & E MAKERS BEECHWORTH MAJOLICA COLOURED POTTERY CLAY STONEWARE BARELL KEG CROCK JAR BOTTLE FLAGON ENGLISH COAT OF ARMS TAP SPIGGOT
M CONNORS SHAMROCK HOTEL H L & E MAKERS BEECHWORTH MAJOLICA COLOURED POTTERY CLAY STONEWARE BARELL KEG CROCK JAR BOTTLE FLAGON ENGLISH COAT OF ARMS TAP SPIGGOT
A A BILLSON H L & E MAKERS BEECHWORTH MAJOLICA COLOURED POTTERY CLAY STONEWARE BARELL KEG CROCK JAR BOTTLE FLAGON ENGLISH COAT OF ARMS TAP SPIGGOT
F O'CONNOR POST OFFICE HOTEL H L & E MAKERS BEECHWORTH MAJOLICA COLOURED POTTERY CLAY STONEWARE BARELL KEG CROCK JAR BOTTLE FLAGON ENGLISH COAT OF ARMS TAP SPIGGOT
H J ROWE STAR HOTEL H L & E MAKERS BEECHWORTH MAJOLICA COLOURED POTTERY CLAY STONEWARE BARELL KEG CROCK JAR BOTTLE FLAGON ENGLISH COAT OF ARMS TAP SPIGGOT
OVENS POTTERY COY LTD PATD 1890 BEECHWORTH JAR
OVENS POTTERY COY LTD PATD 1890 BEECHWORTH CROCK
OVENS POTTERY COY LTD PATD 1890 BEECHWORTH BARREL
OVENS POTTERY COY LTD PATD 1890 BEECHWORTH FLOWER POT
OVENS POTTERY COY LTD PATD 1890 BEECHWORTH POT
OVENS POTTERY COY LTD PATD 1890 BEECHWORTH VASE
OVENS POTTERY COY LTD PATD 1890 BEECHWORTH URN
OVENS POTTERY COY LTD PATD 1890 BEECHWORTH CHEESE DISH
OVENS POTTERY COY LTD PATD 1890 BEECHWORTH BUTTER COOLER
OVENS POTTERY COY LTD PATD 1890 BEECHWORTH WATER FILTER
OVENS POTTERY COY LTD PATD 1890 BEECHWORTH WATER COOLER
OVENS POTTERY COY LTD PATD 1890 BEECHWORTH WINE BARREL
OVENS POTTERY COY LTD PATD 1890 BEECHWORTH SPIRIT BARREL
OVENS POTTERY COY LTD PATD 1890 BEECHWORTH DEMIJOHN
OVENS POTTERY COY LTD PATD 1890 BEECHWORTH CHEESE COVER
OVENS POTTERY COY LTD PATD 1890 BEECHWORTH GARDEN EDGE TILE
OVENS POTTERY COY LTD PATD 1890 BEECHWORTH EXCELSIOR BUTTER MILK REFRIGERATOR
OVENS POTTERY COY LTD PATD 1890 BEECHWORTH JELLY MOULD
OVENS POTTERY COY LTD PATD 1890 BEECHWORTH BOWL
OVENS POTTERY COY LTD PATD 1890 BEECHWORTH BAKING DISH
OVENS POTTERY COY LTD PATD 1890 BEECHWORTH BUNG JAR
OVENS POTTERY COY LTD PATD 1890 BEECHWORTH JAR
OVENS POTTERY COY LTD PATD 1890 BEECHWORTH BASIN
J PLUMRIDGE BEECHWORTH ROTHERY'S PATENT WATER FILTER
J PLUMRIDGE BEECHWORTH BREAD PLATE
J PLUMRIDGE BEECHWORTH SPITTOON
J PLUMRIDGE BEECHWORTH CHEESE PLATE
J PLUMRIDGE BEECHWORTH TEAPOT
J PLUMRIDGE BEECHWORTH JUG
J PLUMRIDGE BEECHWORTH JAR
J PLUMRIDGE BEECHWORTH CROCK
J PLUMRIDGE BEECHWORTH BARREL
J PLUMRIDGE BEECHWORTH FLOWER POT
J PLUMRIDGE BEECHWORTH POT
J PLUMRIDGE BEECHWORTH VASE
J PLUMRIDGE BEECHWORTH URN
J PLUMRIDGE BEECHWORTH CHEESE DISH
BOTTLE COLLECTING AUSTRALIA
BOTTLE COLLECTING IN AUSTRALIA
AUCTION BOTTLES AUSTRALIA
AUCTION BOTTLES AUSTRALIAN
AUCTION BOTTLE AUSTRALIA
AUCTION BOTTLE AUSTRALIAN
BOTTLE PRICE GUIDE AUSTRALIA
BOTTLE PRICE GUIDE AUSTRALIAN
AUSTRALIAN BOTTLE PRICE GUIDE
BOTTLE PRICE GUIDE
BOTTLE AUCTION AUSTRALIA
ANTIQUE BOTTLES AUSTRALIA
AUSTRALIAN ANTIQUE BOTTLES
AUSTRALIAN ANTIQUE BOTTLE
J PLUMRIDGE BEECHWORTH BUTTER COOLER
J PLUMRIDGE BEECHWORTH WATER FILTER
J PLUMRIDGE BEECHWORTH WATER COOLER
J PLUMRIDGE BEECHWORTH WINE BARREL
J PLUMRIDGE BEECHWORTH SPIRIT BARREL
J PLUMRIDGE BEECHWORTH DEMIJOHN
J PLUMRIDGE BEECHWORTH CHEESE COVER
J PLUMRIDGE BEECHWORTH GARDEN EDGE TILE
J PLUMRIDGE BEECHWORTH EXCELSIOR BUTTER MILK REFRIGERATOR
J PLUMRIDGE BEECHWORTH JELLY MOULD
J PLUMRIDGE BEECHWORTH BOWL
J PLUMRIDGE BEECHWORTH BAKING DISH
J PLUMRIDGE BEECHWORTH BUNG JAR
J PLUMRIDGE BEECHWORTH JAR
J PLUMRIDGE BEECHWORTH BASIN
H L & E BEECHWORTH ROTHERY'S PATENT WATER FILTER
H L & E BEECHWORTH BREAD PLATE
H L & E BEECHWORTH SPITTOON
H L & E BEECHWORTH CHEESE PLATE
H L & E BEECHWORTH TEAPOT
H L & E BEECHWORTH BOTTLE FLASK CROCK

H L & E BEECHWORTH JUG
H L & E BEECHWORTH JAR
H L & E BEECHWORTH CROCK
H L & E BEECHWORTH BARREL
H L & E BEECHWORTH FLOWER POT
H L & E BEECHWORTH POT
H L & E BEECHWORTH VASE
H L & E BEECHWORTH URN
H L & E BEECHWORTH CHEESE DISH
H L & E BEECHWORTH BUTTER COOLER
H L & E BEECHWORTH WATER FILTER
H L & E BEECHWORTH WATER COOLER
H L & E BEECHWORTH WINE BARREL
H L & E BEECHWORTH SPIRIT BARREL
H L & E BEECHWORTH DEMIJOHN
A A BILLSON BEECHWORTH MULTI COLOURED MAJOLICA CERAMIC CLAY POTTERY STONEWARE BARREL JAR CROCK

H L & E BEECHWORTH CHEESE COVER
H L & E BEECHWORTH GARDEN EDGE TILE
H L & E BEECHWORTH EXCELSIOR BUTTER MILK REFRIGERATOR
H L & E BEECHWORTH JELLY MOULD
H L & E BEECHWORTH BOWL
H L & E BEECHWORTH BAKING DISH
H L & E BEECHWORTH BUNG JAR
H L & E BEECHWORTH JAR
H L & E BEECHWORTH BASIN
H L & E MAKERS BEECHWORTH ROTHERY'S PATENT WATER FILTER
H L & E MAKERS BEECHWORTH BREAD PLATE
H L & E MAKERS BEECHWORTH SPITTOON
H L & E MAKERS BEECHWORTH CHEESE PLATE
H L & E MAKERS BEECHWORTH TEAPOT
H L & E BEECHWORTH JUG
H L & E MAKERS BEECHWORTH JAR
H L & E MAKERS BEECHWORTH CROCK
H L & E MAKERS BEECHWORTH BARREL
H L & E MAKERS BEECHWORTH FLOWER POT
H L & E MAKERS BEECHWORTH POT
H L & E MAKERS BEECHWORTH VASE
H L & E MAKERS BEECHWORTH URN
H L & E MAKERS BEECHWORTH CHEESE DISH
H L & E MAKERS BEECHWORTH BUTTER COOLER
H L & E MAKERS BEECHWORTH WATER FILTER
H L & E MAKERS BEECHWORTH WATER COOLER
H L & E MAKERS BEECHWORTH WINE BARREL KEG
H L & E MAKERS BEECHWORTH SPIRIT BARREL KEG
H L & E MAKERS BEECHWORTH DEMIJOHN
H L & E MAKERS BEECHWORTH CHEESE COVER
H L & E MAKERS BEECHWORTH GARDEN EDGE TILE
H L & E MAKERS BEECHWORTH EXCELSIOR BUTTER MILK REFRIGERATOR
H L & E MAKERS BEECHWORTH JELLY MOULD
H L & E MAKERS BEECHWORTH BOWL
H L & E MAKERS BEECHWORTH BAKING DISH
H L & E MAKERS BEECHWORTH BUNG JAR
H L & E MAKERS BEECHWORTH JAR
H L & E MAKERS BEECHWORTH BASIN
H L & E ROTHERY'S PATENT WATER FILTER
BEECHWORTH POTTERY BREAD PLATE
BEECHWORTH POTTERY SPITTOON
BEECHWORTH POTTERY CHEESE PLATE
BEECHWORTH POTTERY JUG
BEECHWORTH POTTERY JAR
BEECHWORTH POTTERY CROCK
BEECHWORTH POTTERY BARREL
BEECHWORTH POTTERY FLOWER POT
BEECHWORTH POTTERY POT
BEECHWORTH POTTERY VASE
BEECHWORTH POTTERY URN
BEECHWORTH POTTERY CHEESE DISH
BEECHWORTH POTTERY BUTTER COOLER
BEECHWORTH POTTERY WATER FILTER
BEECHWORTH POTTERY WATER COOLER
BEECHWORTH POTTERY WINE BARREL
BEECHWORTH POTTERY SPIRIT BARREL
BEECHWORTH POTTERY DEMIJOHN
BEECHWORTH POTTERY CHEESE COVER
BEECHWORTH POTTERY GARDEN EDGE TILE
BEECHWORTH EXCELSIOR BUTTER MILK REFRIGERATOR
BEECHWORTH POTTERY JELLY MOULD
BEECHWORTH POTTERY BOWL
BEECHWORTH POTTERY BAKING DISH
BEECHWORTH POTTERY BUNG JAR
BEECHWORTH POTTERY JAR
BEECHWORTH POTTERY BASIN
H L & E BREAD PLATE
H L & E SPITTOON
H L & E CHEESE PLATE
H L & E TEAPOT
H L & E JUG
H L & E JAR
H L & E CROCK
H L & E BARREL
H L & E FLOWER POT
H L & E POT
H L & E VASE
H L & E URN
H L & E CHEESE DISH
H L & E BUTTER COOLER
H L & E WATER FILTER
H L & E WATER COOLER
H L & E WINE BARREL
H L & E SPIRIT BARREL
H L & E DEMIJOHN
H L & E CHEESE COVER
H L & E GARDEN EDGE TILE
H L & E EXCELSIOR BUTTER MILK REFRIGERATOR
H L & E JELLY MOULD
H L & E BOWL
H L & E BAKING DISH
H L & E BUNG JAR
H L & E JAR
H L & E BASIN
BEECHWORTH POTTERY BREAD PLATE
BEECHWORTH POTTERY SPITTOON
BEECHWORTH POTTERY CHEESE PLATE
BEECHWORTH POTTERY JUG
BEECHWORTH POTTERY JAR
BEECHWORTH POTTERY CROCK
BEECHWORTH POTTERY BARREL
BEECHWORTH POTTERY FLOWER POT
BEECHWORTH POTTERY POT
BEECHWORTH POTTERY VASE
BEECHWORTH POTTERY URN
BEECHWORTH POTTERY CHEESE DISH
BEECHWORTH POTTERY BUTTER COOLER
BEECHWORTH POTTERY WATER FILTER
BEECHWORTH POTTERY WATER COOLER
BEECHWORTH POTTERY WINE BARREL
A A BILLSON BEECHWORTH MULTI COLOURED MAJOLICA CERAMIC CLAY POTTERY STONEWARE BARREL JAR CROCK

BEECHWORTH POTTERY SPIRIT BARREL
BEECHWORTH POTTERY DEMIJOHN
BEECHWORTH POTTERY CHEESE COVER
BEECHWORTH POTTERY GARDEN EDGE TILE
BEECHWORTH EXCELSIOR BUTTER MILK REFRIGERATOR
BEECHWORTH POTTERY JELLY MOULD
BEECHWORTH POTTERY BOWL
BEECHWORTH POTTERY BAKING DISH
BEECHWORTH POTTERY BUNG JAR
BEECHWORTH POTTERY JAR
BEECHWORTH POTTERY BASIN
J R ROTHERY'S PATENT WATER FILTER
J R BREAD PLATE
J R SPITTOON
J R CHEESE PLATE
J R TEAPOT
J R JUG
J R JAR
J R CROCK
J R BARREL
J R FLOWER POT
J R POT
J R VASE
J R URN
J R CHEESE DISH
J R COOLER
J R WATER FILTER
J R WATER COOLER
J R WINE BARREL
J R SPIRIT BARREL
J R DEMIJOHN
J R CHEESE COVER
J R GARDEN EDGE TILE
J R EXCELSIOR BUTTER MILK REFRIGERATOR
J R JELLY MOULD
J R BOWL
J R BAKING DISH
J R BUNG JAR
J R JAR
J R BASIN
J ROTHERY ROTHERY'S PATENT WATER FILTER
J ROTHERY BREAD PLATE
J ROTHERY SPITTOON
J ROTHERY CHEESE PLATE
J ROTHERY TEAPOT
J ROTHERY JUG
J ROTHERY JAR
J ROTHERY CROCK
J ROTHERY BARREL
J ROTHERY FLOWER POT
J ROTHERY POT
J ROTHERY VASE
J ROTHERY URN
J ROTHERY CHEESE DISH
J ROTHERY COOLER
J ROTHERY WATER FILTER
J ROTHERY WATER COOLER
A A BILLSON BEECHWORTH MULTI COLOURED MAJOLICA CERAMIC CLAY POTTERY STONEWARE BARREL JAR CROCK

J ROTHERY WINE BARREL
J ROTHERY SPIRIT BARREL
J ROTHERY DEMIJOHN
J ROTHERY CHEESE COVER
J ROTHERY GARDEN EDGE TILE
J ROTHERY EXCELSIOR BUTTER MILK REFRIGERATOR
J ROTHERY JELLY MOULD
J ROTHERY BOWL
J ROTHERY BAKING DISH
J ROTHERY BUNG JAR
J ROTHERY JAR
J ROTHERY BASIN
BEECHWORTH POTTERY CO ROTHERY'S PATENT WATER FILTER
BEECHWORTH POTTERY CO BREAD PLATE
BEECHWORTH POTTERY CO SPITTOON
BEECHWORTH POTTERY CO CHEESE PLATE
BEECHWORTH POTTERY CO TEAPOT
BEECHWORTH POTTERY CO JUG
BEECHWORTH POTTERY CO JAR
BEECHWORTH POTTERY CO CROCK
BEECHWORTH POTTERY CO BARREL
BEECHWORTH POTTERY CO FLOWER POT
BEECHWORTH POTTERY CO POT
BEECHWORTH POTTERY CO VASE
BEECHWORTH POTTERY CO URN
BEECHWORTH POTTERY CO CHEESE DISH
BEECHWORTH POTTERY CO COOLER
BEECHWORTH POTTERY CO WATER FILTER
BEECHWORTH POTTERY CO WATER COOLER
BEECHWORTH POTTERY CO WINE BARREL
BEECHWORTH POTTERY CO SPIRIT BARREL
BEECHWORTH POTTERY CO DEMIJOHN
BEECHWORTH POTTERY CO CHEESE COVER
BEECHWORTH POTTERY CO GARDEN EDGE TILE
BEECHWORTH POTTERY CO EXCELSIOR BUTTER MILK REFRIGERATOR
BEECHWORTH POTTERY CO JELLY MOULD
BEECHWORTH POTTERY CO BOWL
BEECHWORTH POTTERY CO BAKING DISH
BEECHWORTH POTTERY CO BUNG JAR
BEECHWORTH POTTERY CO JAR
BEECHWORTH POTTERY CO BASIN
G LINDOP ROTHERY'S PATENT WATER FILTER
G LINDOP BREAD PLATE
G LINDOP SPITTOON
G LINDOP CHEESE PLATE
G LINDOP TEAPOT
G LINDOP JUG
G LINDOP JAR
G LINDOP CROCK
G LINDOP BARREL
G LINDOP FLOWER POT
G LINDOP POT
G LINDOP VASE
G LINDOP URN
G LINDOP CHEESE DISH
G LINDOP COOLER
G LINDOP WATER FILTER
G LINDOP WATER COOLER
G LINDOP WINE BARREL
G LINDOP SPIRT BARREL
G LINDOP DEMIJOHN
G LINDOP CHEESE COVER
G LINDOP GARDEN EDGE TILE
G LINDOP EXCELSIOR BUTTER MILK REFRIGERATOR
G LINDOP JELLY MOULD
G LINDOP BOWL
G LINDOP BAKING DISH
G LINDOP BUNG JAR
G LINDOP JAR
G LINDOP BASIN
B EASTWOOD ROTHERY'S PATENT WATER FILTER
B EASTWOOD BREAD PLATE
B EASTWOOD SPITTOON
B EASTWOOD CHEESE PLATE
B EASTWOOD TEAPOT
B EASTWOOD JUG
B EASTWOOD JAR
B EASTWOOD CROCK
B EASTWOOD BARREL
B EASTWOOD FLOWER POT
B EASTWOOD POT
B EASTWOOD VASE
B EASTWOOD URN
B EASTWOOD CHEESE DISH
B EASTWOOD COOLER
B EASTWOOD WATER FILTER
B EASTWOOD WATER COOLER
B EASTWOOD WINE BARREL
B EASTWOOD SPIRT BARREL
B EASTWOOD DEMIJOHN
B EASTWOOD CHEESE COVER
B EASTWOOD GARDEN EDGE TILE
B EASTWOOD EXCELSIOR BUTTER MILK REFRIGERATOR
B EASTWOOD JELLY MOULD
B EASTWOOD BOWL
B EASTWOOD BAKING DISH
B EASTWOOD BUNG JAR
B EASTWOOD JAR
B EASTWOOD BASIN
R HAMBLETON ROTHERY'S PATENT WATER FILTER
R HAMBLETON BREAD PLATE
R HAMBLETON SPITTOON
R HAMBLETON CHEESE PLATE
R HAMBLETON TEAPOT
R HAMBLETON JUG
R HAMBLETON JAR
R HAMBLETON CROCK
R HAMBLETON BARREL
R HAMBLETON FLOWER POT
R HAMBLETON POT
R HAMBLETON VASE
R HAMBLETON URN
R HAMBLETON CHEESE DISH
R HAMBLETON COOLER
R HAMBLETON WATER FILTER
R HAMBLETON WATER COOLER
R HAMBLETON WINE BARREL
R HAMBLETON SPIRT BARREL
R HAMBLETON DEMIJOHN
R HAMBLETON CHEESE COVER
R HAMBLETON GARDEN EDGE TILE
R HAMBLETON EXCELSIOR BUTTER MILK REFRIGERATOR
R HAMBLETON JELLY MOULD
R HAMBLETON BOWL
R HAMBLETON BAKING DISH
R HAMBLETON BUNG JAR
R HAMBLETON JAR
R HAMBLETON BASIN
NATIONAL MUSUEM OF OVENS BEECHWORTH POTTERY HURDLE FLAT H.L.&E POTTERY BEECHWORTH